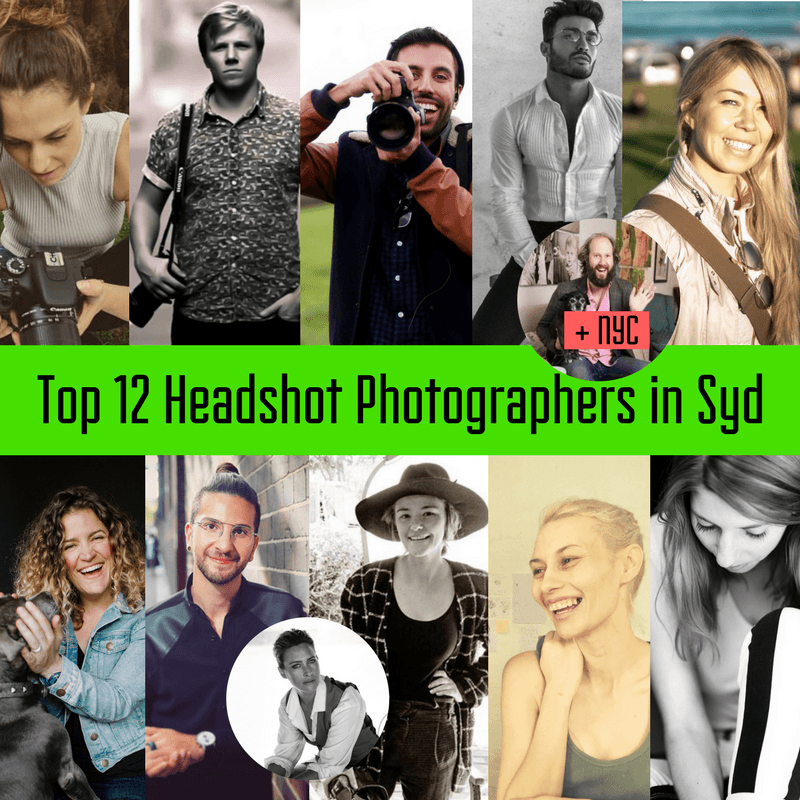 Although your smartphones can take some pretty shmick pics these days, there's nothing like a professional photographer – one with years of experience working with lights and faces – to take that new headshot of yours. We are excited to share with you this list of some of Sydney's top headshot photographers. Of course, there are others that are not featured in this list. This list is merely a resource to help you get started on your headshot photographer research. Enjoy!
Before you approach these photographers, make sure to…
1. KNOW THY REASON
Why are you getting the headshots in the first place? Are you wanting to update your online casting profiles? Do you want to approach an Acting Agency for representation? Or are you just looking fierce lately and wanting to celebrate? If you know the answer to this question, you can make more informed decisions. To just take headshots for the sake of it can end up being a waste of time. Remember, your headshot should be a means to an end, not the end itself.
2. KNOW THY PHOTOGRAPHER
Praise be, there is internet! And there are lists like this on the internet that can make researching photographers a hell of a lot easier. So, take your time. Look through their Facebook pages and Instagram accounts and check out their work; does it align with you? Does it reflect the direction that you want to go in? If so, then make contact. If not, keep Internet-ing. Oh, and ask as well if they provide hair and makeup packages!
3. KNOW THY SELF
Having your photo taken can be very intimidating. But if you approach the session with a clear sense of who you are, which pose makes you feel foolish and which makes you shine, which clothes/colours/hair/make-up looks best on you, then you can have a sense of control on the shoot date and your natural quirkiness or awkwardness or strength or sexiness can come out.
You would rather take your time and find the right photographer than rush into a decision for the sake of it. The information below will hopefully get you started on that process.
The Top 12 Headshot Photographers in Sydney (alphabetical order)
1. Alex Vaughan | Central Sydney NSW
"Find a great photographer whose style you love, and who you feel you can trust. Let them guide you through the process of making great photos. Having a great portrait is often your first opportunity to be seen and 'get in the door', so it's worth finding the right person for you. Then you can just relax and enjoy your shoot ." – Alex Vaughan
In 10 years Alex Vaughan has established herself as one of the leading portrait and documentary photographers of actors in Australia working with many of the country's top talent. In 2017, her personal series 'In Their Element' was one of the featured projects in Capture Magazine's May/June print and October online issues. In the same year Vaughan was selected as one of 40 finalists out of 2500 entrants in the Head On Photographic Portrait Prize for her self-portrait 'Head Wound'. And in 2014 she was selected as one of the 40 finalists for an image from her series 'In Their Element'. Vaughan has spent the last seven years travelling and working in Australia, the U.S, New Zealand and Europe with actors on various commissioned and personal projects. The first part of her current major body of personal work 'In Their Element' is due for exhibition in Australia in 2019.
> What you need to know about Alex Vaughan:
Website: www.alexvaughan.com
Email: info@alexvaughan.com
Facebook: www.facebook.com/alexvaughanphotography
Instagram: www.instagram.com/alexvaughanphoto
Headshot prices start from: $790 including GST
2. Johnny Diaz Nicolaidis | Darlinghurst NSW
"Keep breathing!" – Johnny Diaz Nicolaidis
Johnny Diaz Nicolaidis is a Photographer, Visual Artist and Artistic Director based between Sydney, Melbourne and Los Angeles. As a 2007 graduate of the prestigious National Institute of Dramatic Art, Johnny has followed his passion for creativity around the world, earning him accolades such as a SOYA Spirit of Youth Award Nomination for Photography in 2013 and Special Guest Speaker at the 2012 National Gallery Portrait Prize Ceremony in Canberra. Through Johnny's extensive theatrical background, he is able to create emotive narrative driven imagery in the commercial world. Johnny's work includes clients such as Sony Music, H&M, Lancôme and Myer. As well as profiles such as Aria Award Winner Montaigne, Logie Winner Miranda Tapsell and Logie Award Nominee Geraldine Hakewill. His work has been featured in publications like GQ Australia, Insider for The Sydney Morning Herald, Men's Style Australia, Rolling Stone Magazine and Cosmopolitan Australia.
> What you need to know about Johnny Diaz Nicolaidis:
Website: www.krop.com/jdncreatives
Phone: 040 101 3451
Email: johnny.nicolaidis@live.com
Facebook: www.facebook.com/JDNcreatives
Instagram: www.instagram.com/johnnyvision
Headshot prices start from: $450
3. Kate Williams Photography | Erskineville NSW
"In the days leading up to your shoot drink water, exercise and get sleep. Wear your favourite clothes to the shoot; you need to feel comfy and attractive, the comfort and happiness will definitely show in the final product." – Kate Williams
Having a passion for both acting and photography led Kate down the path of headshots and portraiture. While studying acting at NIDA, a place where you're encouraged to expand all of your creative potential, Kate was inspired to delve further into film and photography as well as her acting. Kate has found that being an actor (and therefore understanding the pressures of headshots) and having a shared 'performance vocabulary' with her clients has proven invaluable in allowing each shoot to be relaxed, fun and aesthetically unique.
> What you need to know about Kate Williams Photography:
Website: www.katewilliams.net.au
Phone: 0403 512 356
Email: kate@katewilliams.net.au
Facebook: www.facebook.com/katewilliamsphotography
Instagram: www.instagram.com/katesyourmate
Headshot prices start from: $380
4. Lauren O Photography | Darlinghurst NSW
"Relax and be yourself, wherever you're at mentally. You don't need to be anyone other than who you are, I promise you, you are beautiful and you are enough. And you rock. Trust me. I haven't met a person that didn't rock yet." – Lauren Orrell
Lauren Orrell specialises in natural light portraits and headshots of actors and other people who work in the arts. She's been shooting for four years and being an actor herself helps her keep her finger on the pulse in terms what's currently in vogue headshot wise.
> What you need to know about Lauren O Photography:
Website: www.laurenophotography.com.au
Phone: 0409 121 702
Email: lauren.orrell@gmail.com
Instagram: http://instagram.com/lauren_o_photography
Headshot prices start from: $300 for an hour shoot, 5 lightly retouched photos and low res exports, unretouched, of all your images.
* LAUREN O PHOTOGRAPHY SPECIAL OFFER: 50% off for the next month for current PAC students. Must be enrolled in a kids, teens or adult class.
5. Luke Stambouliah | Sydney NSW
"Embrace the photo shoot like an audition, it's ok to be nervous but channel those nerves into creating a feeling and emotion like you're running a scene. That's the best way to represent the person they'll meet in an audition." – Luke Stambouliah
Intrigued by his father's profession as a psychologist and his sister's craft as an actor, Luke wanted to fuse the study of the mind with the power of expression. His exhibited works have since been collaborations with actors to communicate the strength of storytelling through still images. Luke graduated with Honours in Photomedia from the University of New South Wales, College of Fine Arts. His body of work Betwixt (The Black Show) was the first photographic exhibition to be held at the prestigious Roslyn Packer Theatre. Beyond the gallery walls,  Luke has continued his path into film and television, shooting stills for Australia's leading productions.
> What you need to know about Luke Stambouliah:
Website: www.lukestambouliah.com
Phone: 0418 206 897
Email: luke@lukestambouliah.com
Facebook: www.facebook.com/lukestambouliahphotographer
Instagram: www.instagram.com/theartist89
Headshot prices start from: $400
6. Mansoor Noor | Strathfield NSW
"It's important to feel comfortable and relaxed. Simply choosing an outfit that makes you feel authentic and confident is a great start." – Mansoor Noor
Mansoor specialises in outdoor headshot photography and has spent time on both sides of the lens, with a Bachelor of Film & Screen Media Production from Griffith University and an Advanced Diploma of Performing Arts from the Actors Centre Australia.
> What you need to know about Mansoor Noor:
Website: www.mansoornoor.com
Phone: 0433 393 220
Email: mance.noor@gmail.com
Facebook: www.facebook.com/mnoorphotography
Instagram: www.instagram.com/mansooraphoto 
Headshot prices start from: $300
7. Marnya Rothe | St Peters NSW
"Don't over think it! Being photographed can be confronting so just relax and try to be yourself. Its up to the photographer to get a good shot." – Marnya Rothe
In 2009, after graduating with a Masters of Photography from Edith Cowan University, Marnya moved to Sydney and started photographing actors. Since then she's photographed some of Australia's most talented performing artists and many stage and film productions. Marnya utilises both natural light on location or a studio-shoot in her St Peter's studio. She also produces promotion images and production stills for film production companies such as Goalpost Pictures and theatre companies including Sport for Jove and Bell Shakespeare. Marnya frequently travels nationally to photograph actors.
> What you need to know about Marnya Rothe:
Website: www.marnyarothe.com
Phone: 0421 751 745
Email: admin@marnyarothe.com
Facebook: www.facebook.com/marnyarothephotography
Instagram: www.instagram.com/marnyarothephotography
Headshot prices start from: $400
8. Nick Prokop | Woolloomooloo NSW
"Getting headshots should be enjoyable – something to look forward to and fun to do. Everyone naturally gets a little shy in front of the camera. People should feel relaxed and good about the way they look. Oh, and choose a top that matches your eye colour. It helps draw attention to your eyes." – Nick Prokop
Whilst studying cinematography at film school, most of Nick's time was spent on set taking promotional stills for film directors. Having developed relationships with actors and agents in the film industry, he discovered a preference for portraiture and directing subjects. He set up a headshot studio in Eastern Sydney and now specialises not only in portraiture, but also unit stills photography for TV,  film, content providers, theatre productions and web series. Nick has shot  for talent from Vivien's, Chadwick's, Wink, Sophie Jermyn and Morrissey's to name a few agencies. Professionally he's shot promotional stills and key art for The ABC, Foxtel, The Wiggles, Rachel Finch, Sydney Film Festival winning directors, award-winning commercial directors, Fringe Festival theatre productions and numerous web series.
> What you need to know about Nick Prokop:
Phone: 0437 777 982
Email: Nicholasprokop@gmail.com
Facebook: www.facebook.com/NickProkopPhotography/
Instagram: www.instagram.com/nick.prokop
Headshot prices start from: $380
* NICK PROKOP SPECIAL OFFER: Anyone who mentions Parramatta Actors Centre can claim a complimentary black and white studio portrait shoot (1 look) if they book before May 2018.
9. Rose-May Photography | Northern Beaches NSW
"Be your bold, beautiful self! Remember to have fun and trust your instincts." – Rosie Keogh
Rosie is a portrait photographer based in Sydney specialising in actor and performing artists headshots. A self-taught photographer, Rosie started digital photography at the age of fourteen, over the years working behind the scenes on film sets and various theatrical productions before spending the last three years as a professional portrait photographer and creating Rose-May Photography. With over five years professional experience as an actor for film/TV, Rosie has a great understanding of what agents and casting directors look for in a headshot and also what it's like on the other side of the camera. Most notably shooting for actors and performing artists such as Brooke Nicole Lee from Channel Ten/ Eleven's 'Mako Mermaid's,' former Australian Idol contestant and actress Amali Ward, and most recently for actor Mansoor Noor from ABC's 'Cleverman.'
> What you need to know about Rose-May Photography:
Website: www.rosemayphotography.com.au
Phone: 0400 729 972
Email: rose-mayphotography@outlook.com
Facebook: www.facebook.com/rosemayphotos
Instagram: www.instagram.com/rosemayphotography
Headshot prices start from: $220
* ROSE-MAY PHOTOGRAPHY SPECIAL OFFER: Student-discounted packages from $100 (must have current student ID; school or part-time/ full-time study)
10. Sally Flegg Photography | Pyrmont NSW
"Remember, most actors find it hard to get photographed; try and breath and let me guide you through the session." – Sally Flegg
Sally Flegg has been specialising in natural light headshots for actors working in Australia and the U.S.A for the past 15 years and runs out of her studio in Pyrmont. She has worked for many of Sydney's top Acting Agents such as RGM, Shanahans, Sophie Jermyn and Lisa Mann Management as well as many acting graduates from Nida, WAAPA, VCA and The Actors Centre. Sally is in constant communication with American managers and agents to follow international trends and demands.
> What you need to know about Sally Flegg Photography:
Website: sallyflegg.com.au
Phone: 0438 244 526
Email: sallyflegg@hotmail.com
Facebook: www.facebook.com/sallyfleggphotography
Instagram: www.instagram.com/sallyfleggphotography
Headshot prices start from: $450
11. Victoria Carwin | Woollahra NSW
"Free your mind, trust your photographer, share a moment with me like it's nothing else now in the world!" – Victoria Carwin
Victoria is a photographer and visual artist who works in still and motion picture. She studied photography with her father in the dark room of their Moscow apartment from age seven, and then went on to graduatewith a Masters in Arts from Moscow State University. Victoria has produced, written and directed short fiction and docu-films, TV news, entertainment and sports packages, and colour stories.
> What you need to know about Victoria Carwin:
Website: www.victoriacarwin.com
Phone: 0416 432 797
Email: victoria@scenario-productions.com
Instagram: www.instagram.com/victoria_carwin_photography
Headshot prices start from: $350 (includes 2 retouches)
And when he's in town…
12. Kurt Sneddon | New York City
""Just relax. It ain't like pulling teeth." – Kurt Sneddon
Kurt is originally from Sydney where he founded Blueprint Studios and became one of Australia's most-trusted photographers for the entertainment industry for fifteen years and is now proud to call himself a New Yorker. Kurt drops into Sydney/Melbourne at least once a year and has quite the waiting list of who's who in Musical Theatre. We'd recommend contacting him well in advance to secure your spot.
> What you need to know about Kurt Sneddon:
Website: www.kurtsneddon.com/hom
Phone: (917) 826-4838
Facebook: www.facebook.com/byKurtSneddon
Instagram: www.instagram.com/bykurtsneddon
Headshot prices start from: US$500
Your face is the key that gets you into the door for casting. Obviously, it is your talent and dedication and energy that keeps you in the room but to make that good first impression, you need to have a headshot that is both high quality and honest. It needs to be a true reflection of who you are, and provide the Casting Directors with an indication of the roles that you can be cast in. For more information on one or all of these headshot photographers, get in touch with them on the contact details provided above.