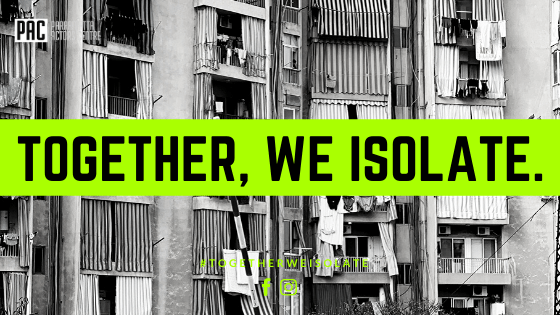 Together, We Isolate
You may not know but our motto at Parramatta Actors Centre is Together, We Act.
But, until we can do that again (and we're so excited for when that day can come!), we take comfort in knowing that our community is still alive and well, and eager to support each other.
So for now, we isolate and social-distance and look after our health and that of our community, we have put together a little project.
Together, We Isolate
This is a challenging time. This is a very strange time.
BUT
We don't build a tapestry of loving and gorgeous people to not then use it as a comforting blanket during difficult times (like our extended metaphor?).
So, as the weeks roll by, we want to continue that tapestry across our Instagram page.
Want to be a part of it?
Here's what you need to do:
Take a pic of yourself during isolation

: It might be a pic of you watching your favourite film, or rediscovering a long-lost hobby, or FaceTiming your friends. 

Write a 5-word caption

to accompany the pic.

Share with us:

DM the pic to us @parramattactorscentre OR share on your own Instagram page and tag #togetherweisolate and #parramattaactorscentre
We will then post to our Instagram page and tag you!
Why are we doing this?
We want to see what you're all getting up to during this time.

We want you to find appreciation and picture-worthy moments in your everyday.

We want you to see that you're not alone in this – we may be isolating, but at least we're together in that!
We look forward to seeing your pics!
Get snapping!
Here are some pics below for inspiration!