Year 3-6 (Saturdays)
Starts: Saturday 9 February
Saturdays, 10.00am – 11.30am, 10 weeks.
Cost: $270
Location: Information and Cultural Exchange (ICE), 8 Victoria Road, Parramatta NSW 2150. View MAP.
Outcomes:
Develop basic acting technique
Unlock imagination and creativity
Improve peer interaction and collaboration
Connect with voice and body
Develop character-building skills
Learn stagecraft and textual analysis
Note: PAC recognises the varying levels of experience amongst its students and so our teachers, at all times, will adjust their classes to accomodate to all levels.
Course overview:
In this course, students in Grades 3-6 will explore and use playmaking techniques of research, improvisation, brainstorming to create a short piece of theatre.
This is a great introductory course for students who are interested in not only acting in theatre but devising their own. After learning the history of theatre, students will come to know the many theatrical conventions at their disposal as theatre makers. These conventions include transformation of place, character, prop, as well as stillness, silence, chorus, sound, and exaggerated body movements.
They will use and manipulate these theatrical conventions in order to create a short piece of theatre that is engaging and meaningful.
These scenes will be presented at the end-of-term performance to family and friends.
Students will be lead by energetic and passionate teachers whose first goal is to create a supportive, fun and dynamic learning environment. Students will be encouraged to be free, playful and thoughtful actors and each class is designed to awaken students to the power of their own voices and bodies.
The Teachers:
NISRINE AMINE
Nisrine Amine is an actor, writer and producer from Western Sydney. She recently featured in the Australian feature film Slam, Deadly Women, Here Come The Habibs, and Janet King as well as the short films Candlelight (2017), The Woman on the Top Floor (2012), Broken Time (2013), and The Parisian(2013), the web series I Luv u But (2014) and TAFEWSI's, Rob's Campaign (2016). Nisrine received an Oustanding Actor nomination at the 2017 Sydney Film School Award night for her lead role in the short film Maya. Her stage credits include Alex and Eve: The Complete Story (Factory Theatre, 2013) where she played the title role of Eve, The Colour Blind Project (Tap Gallery, 2011), Arabian Nights (New Theatre, 2012). Her short film Apricot received funding by Screen NSW as part of their SEED: Regional Funding initiative and premiered at Flickerfest 2018 and will air on ABC IView in early 2018. In 2012, Nisrine produced and co-directed The Young Creatives Festival of Shorts, a short-play festival for young people from Western Sydney as well as The Wizard of Oz (Our Lady of Mercy College, 2002), Check Please! (Catherine Mcauley, 2010), Evil Shall Not Triumph (Catherine McAuley, 2010) and The Wiz(Ave Maria College, 2015). She also wrote, produced and starred in a web series pilot Whatever After(2013).
Nisrine has worked with a range of national and international acting coaches including Anthony Skuse, Kevin Jackson, Anthony Brandon Wong, Natela Dzuliashvili, Serhat Caradee, Robert Marchand and Doris Younane, and studied at leading institutions including the Stella Adler School of Acting NYC, NIDA, Actors Centre and The Hub Studio.
Nisrine is the co-founder and Creative Director of Parramatta Actors Centre.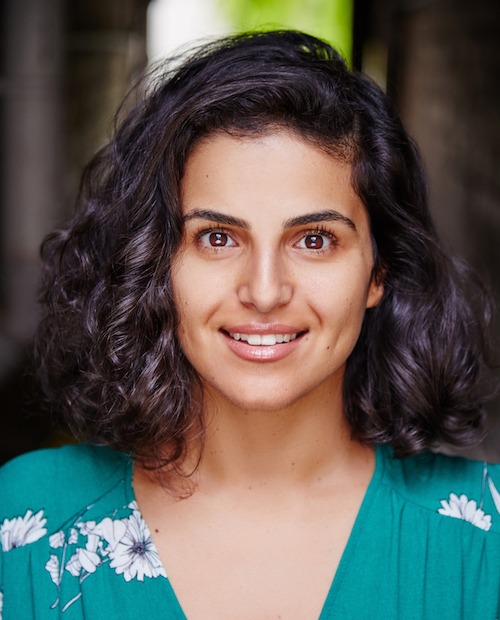 ENYA DALY
Enya is an actor and theatre maker originally from Melbourne. She is a graduate of the B.F.A in Acting at NIDA, and of the full-time musical theatre course SHOWFIT. Enya recently appeared in the premiere season of Love, Me by Joe Brown at The Old 505, and regularly appears in satirical skits on The Feed for SBS Viceland. She is currently in rehearsal for House of Sand's production of Revolt. She Said. Revolt Again as part of The Old 505 2018 Season. Later this year, Enya will travel to the U.K for further artistic development as the recipient of the 2017 BBM Youth Scholarship. Her NIDA credits include Maria in Twelfth Night (dir. Tom Wright), Mavis Knott in The Season at Sarsaparilla (dir. Kristine Landon Smith), Beline in The Hypochondriac (dir. Constantine Costi) and The Whore in Hello Again (dir. Tyran Parke).
In her hometown, Enya was a Melbourne Theatre Company Youth Ambassador. She collaborated with MTC to devise ways to engage young people in the arts and promoted the importance of theatre to the next generation.

Benefits:
By the end of this course, whether they're aware of it or not, students will have built up lifelong skills that will seep into their everyday lives. They will:
Deliver more confident speeches and class presentations at school.
Become better listeners.
Become more open to, and tolerant of differing views.
Become acutely aware of their breathing and emotions.
Develop a more positive self-image.
Work with peers to problem-solve.
Become more comfortable with self-evaluation and constructive feedback.
Important information:
Please read our Centre Policies.
Please wear comfortable loose clothing and appropriate footwear.
All primary-aged students must be signed in and out by a parent or guardian at reception.
Should you be late in picking up your child, please call +61411354424.