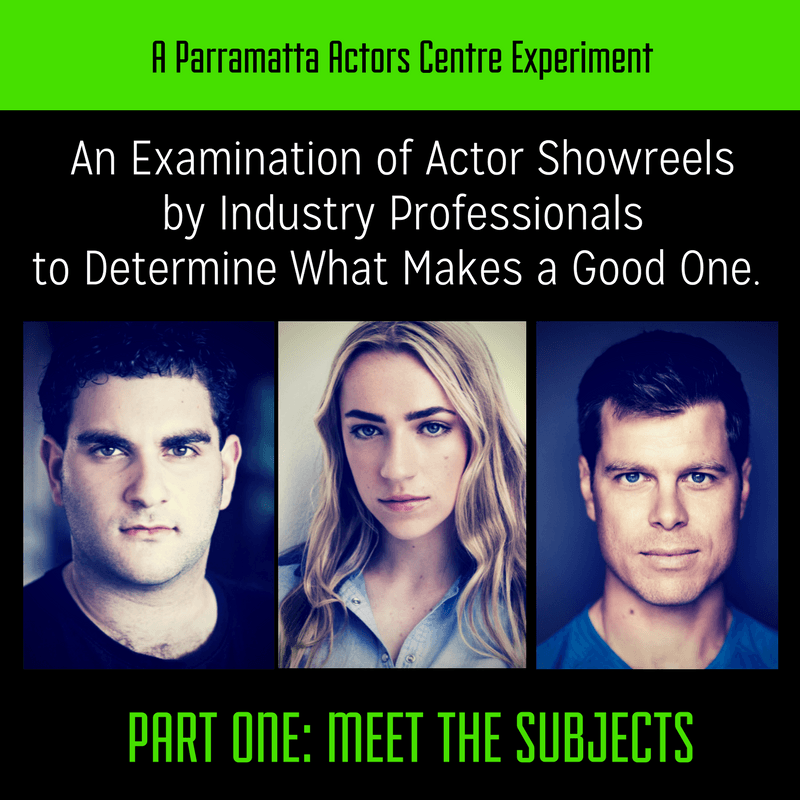 And so the experiment begins…
Title:
The Examination of Actor Showreels by Industry Professionals to Determine What Makes a Good One.
Aim:
To investigate what makes an effective acting showreel.
Hypothesis:
If industry professionals such as Casting Directors and Talent Agents reviewed Actor Showreels and provided feedback on what they watched, then actors thinking of organising their own showreels would learn of the best ways to make an effective one.
Method:
We took three Actors at varying stages of their careers and asked for their showreels. We then asked three of Sydney's top Industry Professionals to review each showreel and then provide answers to the following 5 questions:
1. Did the opening of the Showreel attract your attention? Why/why not?
2. For how many seconds/minutes did the Showreel keep your attention?
3. Was the Showreel too long or too short?
4. Based on this Showreel, for what types of characters would you hire this actor? For which types of shows/productions?
5. Is there any other acting or industry advice you would offer this Actor based on the work exhibited in this Showreel?
We then asked the Industry Professionals GENERAL QUESTIONS about Actor Showreels:
Q: What is the ideal length for a Showreel?
Q: What do you look for in a Showreel?
Q: On average, how long would you say you view a Showreel?
Q: Should Headshots and Title cards be included at the beginning or end of a showreel?
Q: Is it best to try and showcase each genre on separate Showreel? For example, have a comedy reel, a drama reel and a character reel?
Q: Is it OK for talent to send you unsolicited Showreels?
The Actors
Mia Barrett | Melbourne
Mia Barrett is a Melbourne actress who has appeared in multiple short films including Crush (2015) and The Blue Ducks (2016). Both films had success in festivals around the world such as Flickerfest, St Kilda Film Festival and HollyShorts. She is currently studying at 16th Street Actors Studio as a part of their Full Time Program. In June 2018, she will graduate from the course and continue her work in the industry.
Showreel length: 3.09
Steve Maresca | Sydney
Steve Maresca is an Australian actor, born and bred in the city of Sydney Australia. In 2007 Steve completed a Diploma of Theatre Performance and in 2008 he graduated with An Advanced Diploma of Classic Theatre from the Sydney Theatre School. While there Steve completed over 10 plays with the school all ranging from devised work to Shakespeare and Chekov. After graduating Steve was cast in his first feature film Dealing with Destiny working with Luke Arnold and Roger Sciberras. Shortly after that and a tour of the Edinburgh Fringe with This Mortail coil, Steve was cast in the role of Devil Worshipper opposite Malcolm Macdowell in the Feature film Suing the Devil. Steve hopes to one day crack the US market.
Showreel length: 3.34
Rowan Howard | Brisbane
Rowan lives on the Sunshine Coast of Queensland and returned recently from Melbourne where he lived and performed for the past 4 years. During this time he appeared in several award winning plays for several Melbourne theatre companies including Les Liaisons Dangerouses for Peridot Theatre for which he won the Lyrebird Theatre award for best actor in a Drama, Over the River and Through the Woods for Williamstown Theatre Company for which he was awarded the Cordell award for Best Actor and Farragut North, also at Williamstown Little Theatre for which he received the Victorian Drama League Gold award for Best Actor in a Minor Role. In addition to this Rowan has appeared in several TV series including Dr Blake Mysteries, Please Like Me, Neighbours, Party Tricks, Mako: Island of Secrets, The Olivia Newton John Biopic, yet to be released, and the new Netflix series "Harrow" from Brisbane's own Hoodlum Entertainment. His feature film credits include Holding the Man, Out of Order and 36 Questions as well as a slew of short films including a best actor award from the Frostbite International Film Festival for his portrayal of troubled father, James Davey, in Primitive Films multi award-winning short film "Juncture". He has trained at Howard Fine Studio in Melbourne as well as the University of Queensland St Lucia campus.
Showreel length: 3.28
The Industry Professionals
Stay tuned for Part 2 where you will meet our 3 Industry Professionals and read the Results of the experiment.
Until then, you might want to check out our other articles on the best Showreel Companies in Sydney and How to Make an Acting Showreel.